Recently I was in Dallas, TX and had the opportunity to get to know a man by the name of Bill Rogers. Bill is a soft spoken, humble man who when you are around him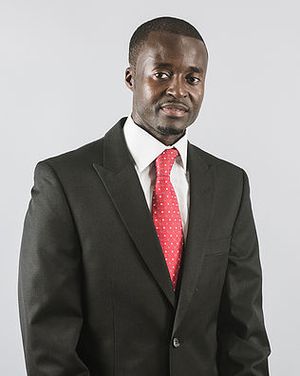 makes you feel like there is something very special going on behind the quiet, calm, confident eyes looking back at you. You would never guess that you are in the presence of someone who has experienced life as a professional Olympic track and field runner in Africa, who has back to back college degrees and now works as a sports performance trainer and physical therapist here in America. What was more impressive to me than all of these accomplishments was the back story I had to drag out of him over a period of a couple of days explaining how he came to stand where he is currently and what he has chosen to do with his experience. Some of what I'm going to tell you about here is not something Bill will ever divulge or freely talk about because he doesn't view himself as different or extra ordinary but I think most of us, if faced with the obstacles and life altering challenges that were part of Bill's journey, would have to dig very deep and have some incredible faith and determination to keep our belief in humanity and then act upon that belief and choose to make a difference. 
I'm going to take some of Bill's bio as it is written on his website and put it here but please keep reading past that because there is so much more to the story that I want to fill you in on. 
"Born in September 1985, Bill grew up in the forested outer reaches of western coastal Liberia, Africa. Raised lovingly with four brothers and one sister by diligent, though uneducated parents, at an early age, Bill decided to strike out, learn more and see further than the meager means that were immediately available to him. At this time, the traumatic Liberian Civil War broke out, which affected Bill strongly. At age 7, his parents divorced, leaving his mother to take care of the entire family alone. As the oldest sibling, Bill began to grow into a leader at home. But to become a leader out in the world, he would have to first understand what it meant to be an integral part of a team with a collective goal in mind. 
After seeing a group of professional track and field athletes run through his town, he eagerly trailed alongside them, immediately receiving encouragement from their coach to pursue athletics. In his early formative years, Bill lived with several relatives away from his brothers and sisters. At age 11, Bill entered public school for the first time. There, he soon participated in soccer, as well as track and field. 
He had a lot to catch up with academically, however. Always funny and outgoing, Bill made friends with a classmate named Sayé, who provided him food and some insights about learning. Bill also worked with a study tutor named Solo who taught Bill about written language and history. While initially behind several years in school, Bill finally caught up in his late teens. 
Bill's various athletic skills grew exponentially in his early teen years. He competed and placed in the World Youth Track and Field Championship in Hungary in 2001. Bill also became a double medal award-winner as an official competitor in the African Athletic Championship in Benin in early 2004. He competed and won several other track and field awards in Africa and Europe.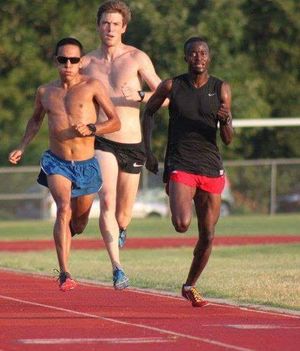 At age 18, Bill was chosen to train and become an official member of the Liberian Olympic track and field team in 2004. At this time, the dramatic political unrest in Liberia began to calm significantly, punctuated by the election of President Ellen Johnson Sirleaf and a new, peaceful leadership body. This important passage in his life, along with his success in the 35th Annual IAAF World Cross Country Running Championship in Kenya in 2007, has placed him on the forefront of Liberian athletic history. 
During this time between training, Bill began to pursue another life as a sports physical therapist. He trained and became a certified athletic trainer in Nairobi, Kenya, in 2003. But Bill's vision took him further, this time to the United States. With the encouragement and help of previous Liberian Olympic track and field team member Dr. Grace-Ann Dinkins, Bill applied and was accepted to El Camino College in Torrance, California. He traveled over 7000 miles to begin his studies. Bill moved to El Paso, Texas for the following school year to study Kinesiology - Exercise Science. After winning a full athletic scholarship, Bill transferred to Huston-Tillotson University, where he eventually earned his Bachelor of Science degree in Kinesiology - Human Performance as a top honor student in 2009. Bill acted as a student ambassador at Huston-Tillotson University and guided new students through their orientation and studies." 
If this is where this story ended this would be an impressive young man, with an impressive life to this point, who has had some great accomplishments... but it's not where it ends. What is not talked about in Bill's bio is the fact that at 7 years old during the civil war he was dragged off into the forest by two men who beat him within an inch of his life, cut off two of his toes on his right foot down to the main knuckle and then "gutted" him and left him for dead. 
Eventually he was found by a couple of women who were able to lift him into a wheelbarrow and rush him to the local Dr.'s office. They did not have the ability to treat his wounds so he was then taken and placed on a local bus/transport and brought to the nearest hospital where he was operated on, he was not expected to live. Bill did pull through but it was a very difficult, long, day to day fight. 
After being released from the hospital Bill told me he had a decision to make, now crippled and made to feel "less than" he could have easily given in to despair and self pity and started to beg on the street or even go down the path of drugs and crime (Remember this is a 7 year old boy we are talking about). It was incredible for me to hear him describe making the decision to not give up, but not only to not give up trying to establish a reasonable life but to make the decision to become a professional track and field athlete?! When he mentions in his bio that "After seeing a group of professional track and field athletes run through his town, he eagerly trailed alongside them, immediately receiving encouragement from their coach to pursue athletics." He fails to mention that he did this with a good portion of his right foot missing and having recently recovered from a near death experience, a fact that he hid from many of his coaches and trainers for years in fear that they would not allow him to continue to compete. 
Not only did he accomplish his goals but he went well beyond. The most important goal and ultimate destination for Bill, is to utilize all that he has learned and return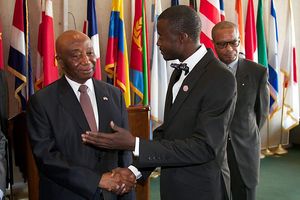 home to make a difference. This is why he founded the Bill Rogers Youth Foundation, an organization that seeks to ultimately transform young lives through athletic participation and achievement, as well as through fundamental schooling and life guidance.  He is currently a member of the Liberian International Athletic Foundation, where he organizes, coordinates and supervises a great number and variety of sporting activities for youths in several communities throughout the U.S. Bill is poised to make a momentous return to Liberia and create a lasting impression amongst its youth and communities with the establishment of the Bill Rogers Youth Foundation. 
As of today the Liberian government has given Bill the land needed to build his Youth Foundation's Home. This is designed to be a 22-bedroom, 2500 square foot youth home and learning center. The youth home will contain: 
One computer lab outfitted with 15 computers and the latest technology to enhance and accelerate the learning process for its student athletes and guests 
A central conference room where the students can have a quiet place to study and finish any homework that they may have 
Fully furnished kitchen so that the children can be provided two meals per day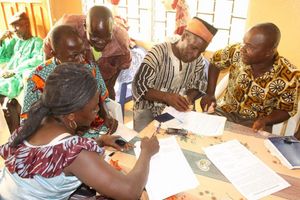 The peer mentors will help tutor any youth residents that need extra attention in learning how to speak, read, write, spell and comprehend the English language; to discover and nurture individual talents and to ultimately help youth residents to utilize those talents in order to be successful, adaptable adults. BRYF seeks to employ at least two voluntary peer mentors and one part-time assistant. 
There are also plans for an indoor 2,500 square foot recreational and sporting center will provide Liberian youths with a fun and exciting arena to play and learn sportsmanship. BRYF also plans to develop a soccer field, outdoor basketball court, tennis court, netball and volleyball area and 6-lane running track. They are seeking to employ at least one full-time physical education teacher and one part-time assistant but will also need utilize volunteer support staff. 
The next step in the journey is to raise the funds to purchase the bricks needed to begin building the actual Youth Home. As part of the overall "Brick by Brick" campaign I want to reach out to my friends and those I know to help me contribute "5000 Bricks" to this effort. I am going to donate all profits from all sales of all my music as well as any of my merchandise or affiliated products to the foundation until we reach 5000 bricks. Each brick costs $1 so put this in perspective, every download of every song from this site or from my Conquer Entertainment site at www.jmbcountry.com will purchase a brick. Every bit of profit from any piece of merchandise purchased will go to buying bricks for the foundation until we reach our goal. At the end of each week we are going to send out a "Brick Report" to let all of the supporters know how the progress is coming.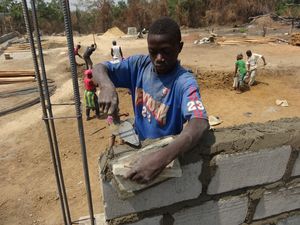 To contribute from this site click here to view and purchase music downloads or click here for merchandise. It doesn't matter which song(s) or piece of merchandise you purchase, all monies go to the foundation until our goal is reached. 
To contribute from my Conquer Entertainment site visit www.jmbcountry.com and again it doesn't matter which song(s) or piece of merchandise you purchase, all profits go to the foundation until the goal is reached. 
To make sure and stay updated on our weekly progress and receive the "Brick Report" each Friday enter your email in my mailing list by clicking here. 
To learn more about the Bill Roger's Youth Foundation visit www.billrogersyouthfoundation.org 
Thank you for your interest and support. 
Love, 
J.