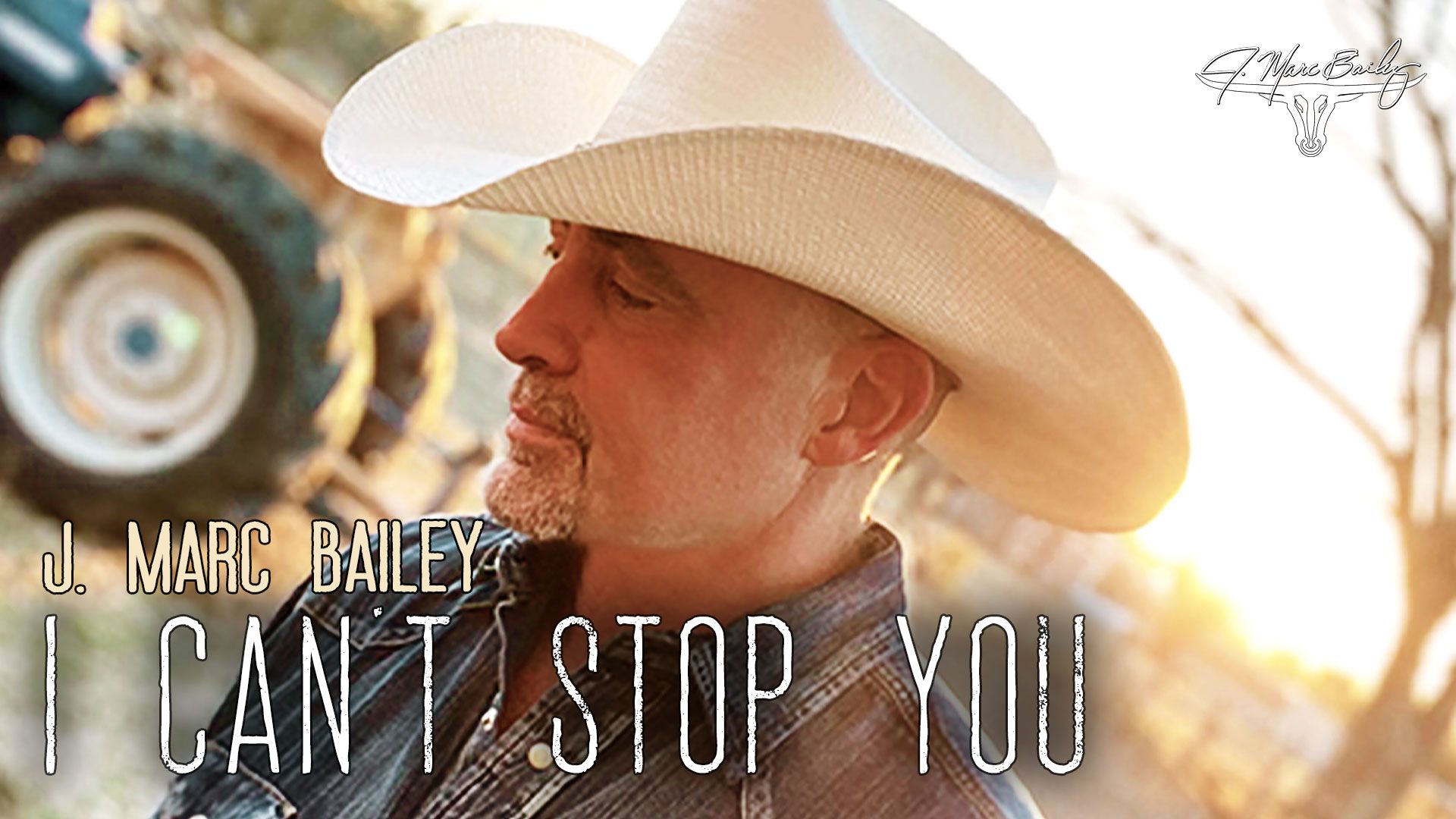 Singer J. Marc Bailey recently announced the release of an outstanding new single: "I Can't Stop You." 
RADIO RELEASE DATE: SEPTEMBER 3rd, 2021
This particular song was actually set for release to radio in March 2020. With the world coming to a grinding halt due to COVID-19 it has made life pretty tough for people in general and it's certainly been a major downer for musicians and artists with many of them unable to perform or get their music out there. However, J. Marc managed to stay active writing and recording and now decided to release this song this year with it being the follow up single to "Unbroken," which is also available on radio, satellite and the vast majority of digital streaming platforms, to great critical and public acclaim. 
The song begins with a mellow introduction. The acoustic guitar has a bright, heavenly sound, which lets you feel the strumming attack of the pick, but without giving the part any harshness whatsoever. The sound is so balanced and direct, with a robust low end, but at the same time, a lot of string attack. This is really the kind of acoustic guitar sound that you want from a country-rock album! At the same time, the beautiful lead melody features a creamy overdriven sound, with some nice bends that almost remind the audience of a lap steel guitar, but with a bluesier touch. In addition to that, the drumbeat is steady, serving as the backbone to the song, and giving the track a more natural and powerful feel, with a bit of a pop-rock twist. 
J. Marc is a talented vocalist who knows how to express himself to the fullest. His style makes me think of artists as diverse as Keith Urban, as well as Slaid Cleaves, Brad Paisley, just to name a few of his peers in modern country music. 
This song could almost be defined as a "power ballad." It has some truly amazing bridges that take the vibe to a more intimate place, but the choruses are really huge, almost aiming for that stadium-sized vibe that you would expect from an arena rock band. The electric guitar, in particular, brings a lot of size to the hooks, with big suspended chords, matching the drums as they become more intense, with some nice cymbal washes and flourishes. 
All in all, this song is an amazing piece of modern country, and I would not hesitate to recommend it to any fan of this genre and beyond. The song clocks in at slightly under the 4-minute mark, and in doing so, it feels like a perfectly executed composition. Every part is performed with mastery and with passion, highlighting the perfect balance between technical chops and emotional delivery. This is yet another fantastic addition to J. Marc's songbook, and it could serve as an amazing introduction to him as an artist, especially if you are not familiar with his music. 
To conclude, it is safe to say that J. Marc definitely managed to set the bar higher with this release and achieve something quite special. "I Can't Stop You" comes across as a very personal song, which feels like a perfect demonstration of J. Marc's heartfelt and genuine personality. As an artist, he strikes me as the kind of performer who is often on the lookout for ways to innovate his sound, settling for nothing but the absolute best in terms of quality, on a quest to further redefine his feel and tone. 
Technically speaking, the recording, mixing, and mastering of this song are absolutely flawless, and as a studio geek myself, I always like to focus on this particular aspect when I am listening to new music. Sure, production is not everything, but to me, an artist who creates well-produced songs as J. Marc does is kind of an assurance of quality and credibility. "I Can't Stop You" would have probably sounded amazing as a rough demo recorded from a phone, but the fact that the track features such a layered and nicely polished (but never "over-polished") production goes a long way in showing how seriously J. Marc takes his music and his listeners. The production craft on this release, the quality, and the clarity of the recording definitely adds to the listening experience, giving the track a lot of depth and dimension. It almost feels like you are right there in the music when you listen to it on a good set of speakers or with your favorite headphones! 
As always, let the music speak for itself! Do not miss out on "I Can't Stop You" and other excellent releases from this talented recording artist. Click here to stream it on your favorite platform. 
-L.L.