J. Marc Bailey sets the bar with his fourth country radio release, "I Can't Stop You."  Written by hit songwriter Jeffrey Steele (Tim McGraw/Faith Hill/Billy Ray Cyrus/LeAnn Rimes) and produced by Buddy Hyatt (George Jones/Dailey & Vincent/Jo Dee Messina/Lee Greenwood/Tracy Lawrence/TG Shepherd), this most recent single, "I Can't Stop You" was released to Radio toward the end of 2021 and has been moving quickly up the terrestrial radio charts. It broke top 10 on the New Music Weekly charts just before the end of the year and is still climbing. It followed that momentum and success by breaking into the top 80 on the Music Row Charts jumping over 140 spots in the first 9 weeks. It has already seen close to 300k streams across all the major digital channels. 
"Stylistically, J. Marc's vocals are 'easy-does-it' overall; the simplistic production of the track left space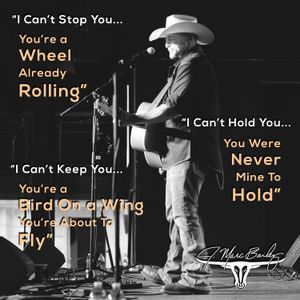 wide open for his emotion to breathe life into the storyline," introduced producer Buddy Hyatt.  "The instrumentation is right down the pipeline and in keeping with some of the greatest traditionalists before him." 
The track opens with a mellow introduction that leads into a beautiful melody supported by a creamy blend of acoustic guitar and pedal steel heightened by electric guitar licks, drum kicks and subtle cymbal washes. J. Marc's impassioned yet simplistic vocal delivery paints the heartfelt imagery of the painful regret in letting go. 
The song is about supporting the one you love to chase their dreams, learning to let go and fighting your own heart in the right decision to do so," said J. Marc Bailey. 
"UP ALL NIGHT, PEN TO PAPER, FOUR PAGE LETTER, SHOULD'VE KNOWN BETTER THAN TO THINK YOU WOULD READ IT 
GUESS I WANTED YOU TO KNOW, I DIDN'T WANT TO LET YOU GO 
BEEN DREADIN' THIS DAY SINCE THE DAY YOU TOLD ME THAT DIRECTOR CALLED, SAID HE LIKED YOUR PICTURES 
AND HE WANTED TO MEET YOU, I DIED THE DAY I SAID TO YOU, YOU GOTTA DO WHATCHA GOTTA DO."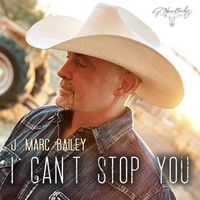 Label: Chair 55 Entertainment 
Written by Jeffrey Steele 
Produced by: Buddy Hyatt