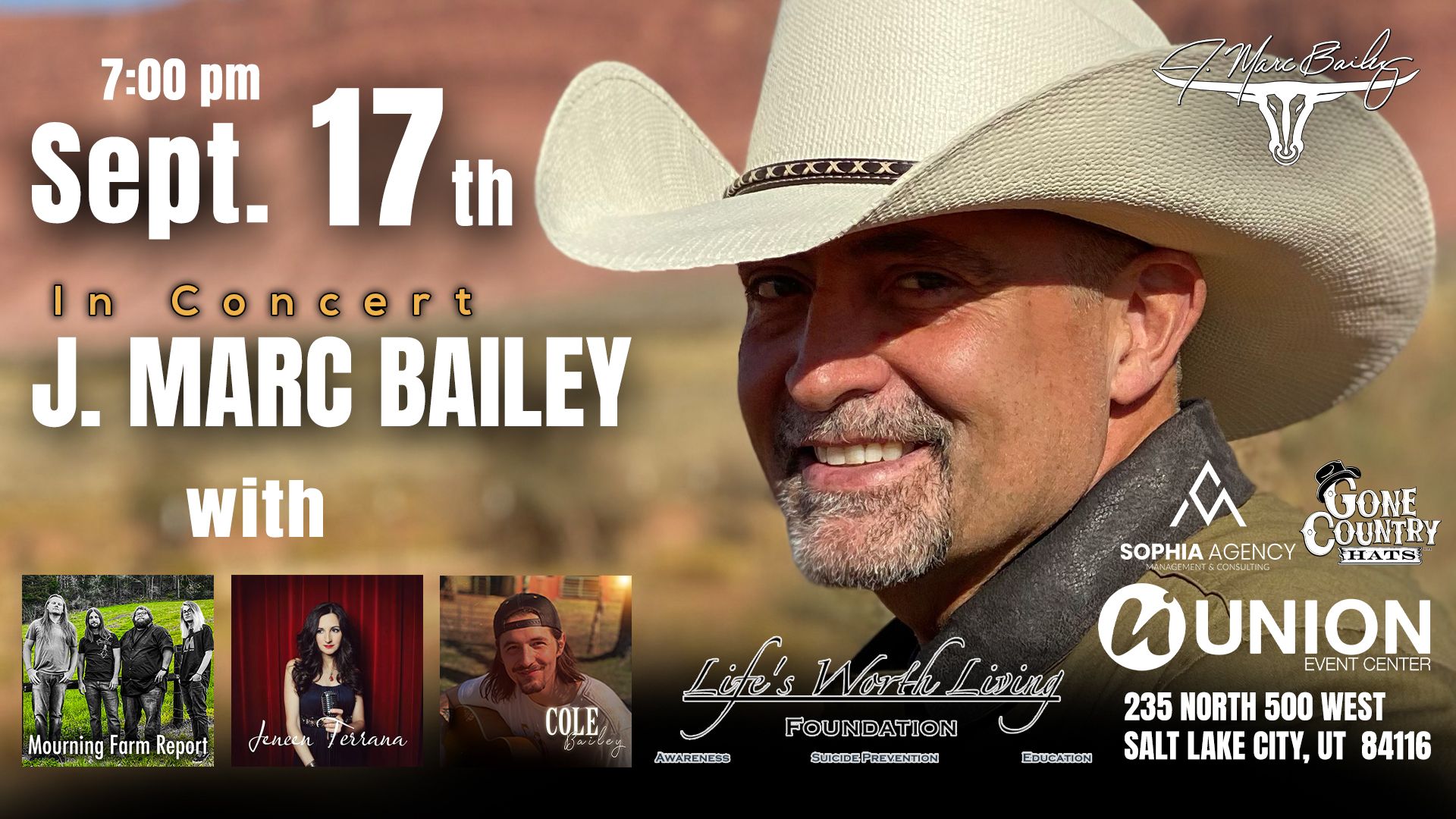 On Friday September 17th 2021, J. Marc Bailey headlines The Life's Worth Living Foundation Charity Event at The Union Event Center in Downtown Salt Lake City. Join Bailey and friends as they perform a concert to benefit Suicide Prevention 
Founded by Jon Gossett in 2014, The Life's Worth Living Foundation, a Utah based 501c3, was created with a three-fold mission; to raise awareness, educate and prevent suicide. 
"It all started in Tooele, Utah, back in February 2014 when three young men lost their lives to suicide.  While visiting with a family member of one of these young men, the conversations kept returning to the same questions. "What could I have done differently? What could I have done to save him?" It was during this conversation that we agreed that something should be done to raise awareness and prevent this unspeakable sadness from happening to others. That some good should come from these heartbreaking events. That we could ultimately play a small part in becoming a blessing to others. It was with this goal in mind that the Life's Worth Living Foundation came to be," says Jon Gossett. 
Hosted by KBULL93, the event will kick-off at 7 p.m. with special guests and Nashville recording artists Jeneen Terrana, Mourning Farm Report and Cole Bailey. J. Marc Bailey has a new single on radio, "I Can't Stop You" call your favorite station and request it. Come enjoy an evening listening to country music and doing it all for a great cause. Currently Utah ranks 6th in the nation for suicide. Together we can change this staggering truth. 
Local affiliates include Stand Up for a Safe Utah, Honor 365 and Sandman Entertainment Studios. For information on the Life's Worth Living Foundation visit their website at lifesworthlivingfoundation.net. 
Seating is limited and advance tickets are available at the following link: https://www.eventbrite.com/e/j-marc-bailey-benefit-concert-tickets-169108812009?fbclid=IwAR1cXnHsoQcx_Jybdz61dVW2iMJi5fL74Ca5rD6r3FcEwJPNXqQ9mrua4Bw
We hope to see you all there! 
***Help us spread the word by sharing this email with those you think would be interested***